EPSOM COACHES GROUP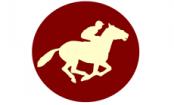 Roy Richmond Way
Epsom
KT19 9AF
t: 01372 731700

w: www.epsomcoaches.com

Epsom Coaches was founded in 1920, by Herbert Richmond and has grown to be one of the leading coach operators in Europe with an extensive coach holidays product range and the finest coach charter fleet.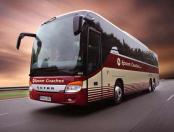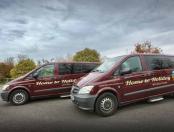 The Company encompasses all aspects of road passenger transport with long term contract hire and our bus division Quality Line, operates bus services across Surrey and south London.
Now part of the worldwide RATP Dev Group, the company places great store by its long history and considerable reputation in the road passenger sector, a reputation that has been established through adherence to the very highest standard of operation and the maxim that "we are only as good as our last journey".
Our headquarters are based in Epsom, Surrey convenient for access to London's airports and well placed to serve the UK and mainland Europe from our state of the art premises where support services are provided around the clock.
With over 90 years experience, we provide a complete road passenger transport service using our portfolio of over 120 vehicles, drawn from Europe's finest manufacturers.
Our business has expanded through an emphasis on outstanding quality and delivery of the highest standards of safety. Our strong reputation has secured us the loyalty of a wide range of clients from individuals to multinational companies and government departments, with over 10 million people travelling on our fleet every year.
Whatever your road passenger transport requirement, Epsom Coaches has the experience, people and fleet to support you.
Private Charter
Our coach fleet features passenger capacities from 7 up to 53 seats and we can also draw from our wider group to provide larger seating capacities when required.
Each of our iconic coaches in the familiar red and cream livery are named after winners of the Epsom Derby, the most famous horse racing event in the world, which like Epsom Coaches is an intrinsic part of the history of Epsom and continues to go from strength to strength.
Epsom Coaches have been providing private charter for clients since 1920, starting out with a 14 seat Model T Ford. Today's coaches are a pleasure to travel in, with a climate controlled interior ambience that is comparable with the finest limousines. Our investment in the best vehicles, supplied by Mercedes-Benz is testament to our strive for excellence, with a high specification that includes everything you could possibly need on your journey. Not all coaches are the same; an Epsom Coach is a very special way to travel.
We welcome the opportunity to demonstrate our fleet and facilities to you, as only by this method can you truly appreciate our commitment to the highest standards.
Our Fleet Specification includes:
Reclining seats with seat back tables
Tinted double glazing
Accessible features
Full carpeting
Toilet/Washroom
Refrigerator
Refreshment facilities
DVD and in coach entertainment
PA system
Climate controlled air conditioning and heating
CCTV systems
Reversing radar and camera
Curtains/Blinds
Seat belts
Specialist Hire
Epsom Coaches famous red and cream coach fleet is just the tip of the iceberg, as the best known part of our diverse and high quality business. However, the company operates in many fields of passenger transport, including NHS staff travel, provision of express coach services, rail replacement and staff transport for a wide range of private and government bodies. These requirements may be long or short term, but all share the common need for a bespoke solution, which Epsom Coaches are able to provide.
Longer term contract requirements may be accommodated using existing vehicles within our fleet or we can procure suitable vehicles to suit your exact specification. This can include provision for accessibility, bespoke liveries and interiors, together with schedule preparation, in fact the complete service where your passenger transport requirements can be handed over entirely to allow you to get on with your business, confident that Epsom Coaches will take care of your transport needs. This need not be confined just to passengers, as we have often provided solutions for parcel and document transfer too, minimising expenditure and maximising the best use of vehicles, made possible by our drivers, who provide complete flexibility.
We operate a number of contracts for corporate and government bodies and are pleased to provide references if required.
Safety, Quality and the Environment
Bus and coach travel is the safest form of land travel, but we go that extra mile to ensure that travelling with us is safer still. We are fully licenced by the UK Department for Transport and have been in continuity since licencing commenced in 1933. In fact we are certified as having held an operating licence longer than any other operator in the London and South Eastern region. With that experience comes a total commitment to safety, from our premises management to the selection, care, maintenance and driving of our fleet. You can be assured that safety is our no 1 priority.
The quality of our operation is independently checked by audit as a condition of our membership of CoachMarque and the Guild of British Coach Operators. Both organisations require the highest standards and 100% audit compliance against a wide range of safety and quality parameters. We are also leading members of the Confederation of Passenger Transport, The Coach Tourism Council, Busk Benchmark and the Global Passenger Network.
As a multi-award-winner for our contribution to reducing the impact of our operation on the environment, we have led the way in the practical implementation of a green agenda. From use of biofuel, water recycling and low energy buildings, combined with the benefits of the latest vehicle emission technology.
Holidays and Day Excursions
We offer a wide range of day excursions and holidays. These can viewed on our website www.epsomcoaches.com.