BELLEEK POTTERY VISITOR CENTRE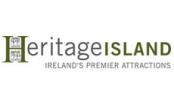 3 Main St., Belleek,
Co. Fermanagh
BT93 3FY
t: +44 (0)28 6865 9300
e: visitorcentre@belleek.ie
w: www.belleekpottery.ie

A visit to Belleek Pottery Visitor Centre is a must on any itinerary and a perfect day out. Famously known for being the oldest working pottery in Ireland, this 4 star attraction offers a fascinating insight into the world of Belleek and the process that delivers this world-class product. Offering a series of delicate delights to make your visit so much more memorable, including a guided tour where you can see one of the most enduring success stories in Irish craftsmanship.