COBH, HERITAGE CENTRE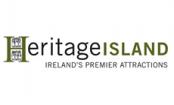 The Queenstown Story, Deepwater Quay,
Cobh, Co. Cork
t: +353 (0)21 481 3591
e: gillian@cobhheritage.com
w: www.cobhheritage.com

Cobh was the most important port of emigration in the country right up to the 1960s. It was the last port of call for the ill-fated Titanic and a final resting place for the victims of the Lusitania sinking. Cobh Heritage Centre dramatically recalls these events in the renovated Victorian Railway Station.