Drawing Heroes Auction at The Cartoon Museum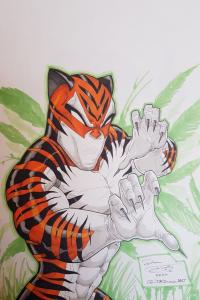 In the time of coronavirus, one thing that unites the nation is clapping every Thursday for the NHS heroes fighting the pandemic on the front lines. Inspired by this, independent UK artist Dan Digby has envisioned NHS workers as superheroes, alongside other original one-off artworks being auctioned from 7 - 14 June in aid of The Cartoon Museum in London.
The Cartoon Museum in London closed temporarily to the public on 18 March, due to coronavirus. This has resulted in no income from visitor admissions, the museum shop, events or from learning workshops. The museum does not get any funding from the UK government. It will take time on re-opening for their visitors to return, and the museum are very concerned about their ability to survive the next six months. The Cartoon Museum is a hub for British cartooning and comic art, and was declared by James Bacon of Forbidden Planet as the 'premier venue in Britain for comic art exhibitions'.
Dan Digby, an independent comic artist based on the Isle of Wight, will be auctioning 10 original art pieces via his website from 7 – 14 June, with all profits going towards The Cartoon Museum. All have been created especially for the auction or are of characters from his own new comic imprint, Universal Comics. The characters featured are inspired by UK life - from NHS workers, to the Isle of Wight Tiger Sanctuary!
Director of The Cartoon Museum, Joe Sullivan said:
"It is essential that the museum continues to raise funds to enable our survival into the future, so that we can continue to champion cartooning as an art form. Building on the success of our #DrawTheCoronaVirus competition, we will continue working alongside our community in fun, interesting and unique ways to help the museum. It is wonderful to receive support at this difficult time from independent artists like Dan, and we are thrilled to be part of an auction of his fantastic original artwork."
Dan Digby said:
"I wanted to help raise money for The Cartoon Museum, and as an artist I felt the best way I could do that is to create original artwork and auction it off, with all profits going towards the museum. I'm glad I can put my work to something good, and I think the NHS Hero character is definitely one of my best, so I'm pleased with that!"
All artwork being auctioned is new, unique artwork of original character designs. The auction will go live on www.DRDcomicart.com on 7 June, and run through to 14 June. Successful bidders will be contacted on 15 June.
Dan Digby is a freelance artist, specialising in comic art. He lives on the Isle of Wight and teaches art classes, runs competitions, and appears at comic events. He also produces comic art by commission and creates original characters for independent comics. He shares his art through his website and his Twitter and Instagram feeds.
Since 2006, The Cartoon Museum has received over 420,000 visitors and built a nationally important collection of 4,300 cartoons, comics and caricatures, and a library of 18,000 comics and books - all without government or local authority support. Over 50,000 children and adults have attended cartooning, comic and animation workshops and the museum receives 3,000 student visits each year. The Museum has a fundraising target of £100,000 in total, and so far has raised around £14,000 since its closure through a variety of activities and public generosity.
Back