Discover Fascinating Animal poo Facts this Easter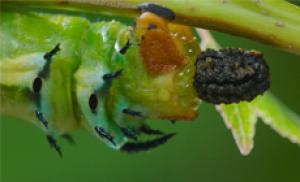 There is so much to discover at the Stratford Butterfly Farm this Easter from 4 – 19 April including plenty about animal poo! Visitors will be able to use new toilet facilities which have recently been refurbished at a cost of £37K. The toilets are decorated with a stunning mural resembling the rainforest flight area and were installed by 'The Graphics House' in Wellesbourne.
Featuring beautiful stone basins and bamboo effect doors, visitors can also watch a film showing caterpillars munching on leaves and depositing their waste! On the back of the toilet doors are fascinating poo facts from animals such as otters, elephants, rabbits, bats, sloths, beetles and Asian Palm Civets. Who knew that Bat poo has been used in the past to make explosives and that the most expensive coffee beans in the world are from the poo of Asian Palm Civets!? The facilities, which are accessible from the Discovery Zone, include disabled and baby changing facilities.
In addition to the spectacular butterflies, insects, reptiles and spiders, the Farm is also home to over 100 fresh Coldwater and Temperate fish. Species include Koi Carp, and several varieties of Goldfish such as Shubunkin and Comets. The size of the Koi Carp varies with the largest weighing 25lbs and the oldest being 25 years old. Special fish food can be purchased for visitors to feed them.
Children and adults can also take part in the popular Meet the Mini-Beast handling sessions at 11:30am & 2:30pm each day. Visitors can hold a giant African millipede, African land snail and Stick Insects. There will also be beetle demonstrations in the Discovery Zone where visitors can discover more about this largest insect group which has around 4,000 species in Britain and 300,000 worldwide.
Jane Kendrick, Marketing Manager at Stratford Butterfly Farm said, "Our newly refurbished toilets will surely fascinate and entertain our visitors with footage of caterpillars munching and pooing. With so much to see and discover, the Butterfly Farm is the ideal place to entertain and enthral visitors of all ages whatever the weather".
The Koffee Kart, which sells hot drinks, milkshakes and snacks, will be open in the garden over the Easter holidays from 10am – 4pm, weather dependant. The Kart will also be open every weekend until the end of August and six days a week during the school holidays.
To see hundreds of spectacular butterflies, insects, reptiles and spiders visit the Butterfly Farm from 10am to 6:00pm, last entry 5:30pm. Open every day of the week except Christmas Day. For more information including admission prices and group rates, please visit the website at www.butterflyfarm.co.uk or telephone on 01789 299288.
Back