Easter Frolics for all the family at Burton Agnes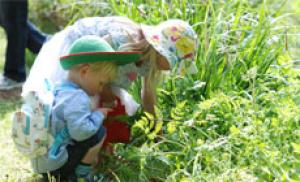 Throughout the Easter holidays, Burton Agnes Hall will be hosting a jolly feast of activities for families to enjoy.
From 4th – 19th April, children are invited to take part in an Easter trail around the wonderful gardens and grounds of the Hall, solving clues while exploring the extensive gardens. Once the trail puzzle has been solved, every child will receive an Easter treat.
On Easter Sunday and Monday, children can hunt for little chocolate Easter eggs hidden by the Easter Bunny in the Hall's woodland, and even meet the bunny himself! There's also a new Bunny Family Ribbon Hunt for very young children to navigate in a rope-maze on the lawn.
There's a fantastic adventure playground in the woodland (perfect for letting off steam), and the gardens also offer a large yew tree maze, giant board games including chess, draughts, quoits, snakes and ladders and hop scotch, while the nature garden is a charming place to relax, perhaps with a coffee, and spot butterflies and bees emerging to enjoy the spring flowers.
The courtyard café will be open for visitors to enjoy homemade meals, light bites and indulgent treats. Meanwhile, the two shops will be stocked with the new season's gifts. Visitors can also choose from a range of home-grown plants propagated from the Hall's gardens, ready to bloom in the coming months.
Simon Cunliffe-Lister, who lives at Burton Agnes, says: "Our five young children hugely look forward to the Easter egg hunt each year - they relish searching for chocolate eggs through the woodland and chatting with the Easter bunny. We join so many others who make a family tradition of visiting our home at Eastertime, enjoying the celebrations as much as we do."
Easter Trail 4th – 19th April, 11am - 5pm daily
Easter Egg Hunt 12th and 13th April, 11am - 5pm both days
After the Easter Egg Hunt, the next event at Burton Agnes Hall is the Vintage Rally on Sunday 10th May, where visitors can admire vintage vehicles set out around the grounds and in the adjacent Park Field.
Back