Magical Adventures at Tatton Park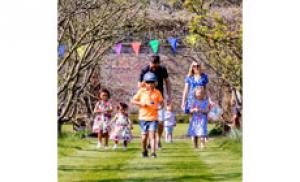 Tatton Park is celebrating all things mythical, magical and mysterious this Easter with unicorn, knight, dragon, troll and mermaid-inspired adventures across the Park.
Magical adventures and chocolate treats
There are treasure-hunt style trails around the Mansion, Garden and Farm, with Cadbury's chocolate eggs for adventurous children who find all the clues. The Parkland trail is free and although there is no chocolate reward for this one, it comes complete with fresh air, exercise and ancient woodland!
Hunt for the mermaid's treasure in the Garden
Follow the trail through Tatton Park's beautiful spring Gardens, taking you to water features such as the Mercury Pool, Golden Brook and Fernery ponds. Children can hunt for the mermaid's lost treasure, compete in traditional garden games and enjoy magical storytelling in the Tower Garden.
Escape the troll at the Farm
The goats have escaped - explore the Farm to find them before the troll finds you! Your route takes you through the Lambing Shed and Hatchery to see real Easter chicks and lambs and hopefully, there'll be piglets in the Piggery too. Make sure you call in at the 18th century Mill to make magic feed for the Easter Bunny.
"We can't wait to share the magic of our atmospheric Mill again this Easter" says Jayne Chapman, Farm Manager, Tatton Park. "Families loved making food for Santa's reindeer at Christmas, so we thought we should do the same for the Easter Bunny!"
There's also a family entertainer at the Farm throughout Easter weekend, as well as storytelling in the Bothy.
A knight's quest in the Mansion
Find all the colourful dragons in the Mansion to solve the mystery word to keep these fiery beasts under control. Stop-off to dress up as a knight, look out for the photo-opportunity as a dragon and then receive a chocolate for bravery from Tatton Park's Chief Knight at the end of the trail.
Easter Magic in the Stableyard
Magic shows and puppet shows run throughout the weekend and wannabe wizards and witches can make their very own wand at wand-making workshops on Saturday and Sunday (book online in advance at tattonpark.org.uk/events).
Springtime lunch and shopping
Tired adventurers can recover with seasonal food in the Stables Restaurant and a new spring menu in the Gardener's Cottage Tea room. Shoppers can visit the pop-up Easter Market stalls and Housekeeper's Store for gifts and estate-reared food.
Enchanting artwork from local artist and designer, Nicky Thompson
These gorgeous creatures are the handiwork of Nicky Thompson, the local artist behind a current exhibition at Grosvenor Museum Made in Chester, the acclaimed Marvellous Days Out rail posters and Tatton Park's Christmas illustrations for 2018 and 2019.
"I just fell in love with the illustrations as soon as I received the artwork from Nick. They capture all the fun and character of the magical adventures we have in store for families this Easter" Caroline Jackson, Marketing Manager, Tatton Park
Times and prices:
• Friday 10 – Monday 13 April
• Parkland opens 10am-7pm (last entry 6pm)
• Garden opens 10am-6pm (last entry 5pm)
• Mansion and Farm open 12pm-5pm (last entry 4pm)
• Buy a Totally Tatton Ticket and visit three attractions for just £14 per adult, £8 per child or £35 for a family*
• Mansion, Garden and Farm single ticket: £8 per adult, £6 per child, £21 for a family*
• Parkland vehicle entry £7 (including National Trust members)
• Information and online tickets at www.tattonpark.org.uk/easter or call 01625 374400
*2 adults and up to 3 children

Back