Soldiers & Skirmishes at Bucklers Hard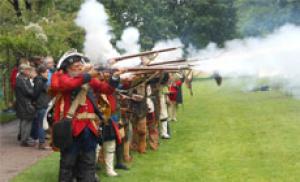 Historic wooden boats, skirmishes with 18th century soldiers, shipwrightry demonstrations, New Forest artwork and the return of the River Cruise will make an unmissable new season at Buckler's Hard, as exciting events add to the attractions of the historic maritime village for 2020.
Getting the new season underway will be the return of the popular River Cruise at the start of the Easter holidays, from April 4th. Get a close-up view of the wildlife that lives along the banks of the beautiful Beaulieu River and listen to the captain's commentary as he tells the rich history of one of the few privately owned rivers in the world. For more details on this separately charged cruise see www.bucklershard.co.uk/attractions/river-cruise.
Over the bank holiday weekend of May 23rd - 25th, watch Southampton University students in the Shipwrights' Workshop as they practice traditional woodworking and ancient shipbuilding techniques that would have been used at Buckler's Hard when ships for Nelson's Trafalgar fleet were built there in the 18th and 19th centuries. Be transported back in time to its shipbuilding heyday by the smell of sawdust and sounds of sawing, as they transform oak timbers from the Beaulieu Estate.
Then on August 1st & 2nd, appreciate some of the amazing wooden boats of the past as they tie up at Buckler's Hard for a gathering of the newly-formed Beaulieu River Wooden Boat Association. Bringing together many of the beautiful sail and motor yachts, dinghies and tenders, rowing boats and kayaks that are enjoyed on the Beaulieu River, this informal get-together is sure to make an impressive sight. Keep your eyes peeled as you observe these stylish vessels from your vantage point on the shoreline.
On the same dates, Art by the River will gather New Forest art and crafts at a pop-up gallery in the Shipwrights' Workshop at the water's edge. Brought together by The Local Art Scene, see the showcase of age-old skills and contemporary artwork produced by painters, ceramicists, jewellery-makers, quilters and wood carvers. Look out for the lesser-known crafts of knotting, peg dolly-making, whittling and manual lathe turning. Then listen to an accompanying celebration of modern and contemporary music, traditional folk-singing and Morris dancing performances.
History fans are in for a treat with Soldiers & Skirmishes: 18th Century Weekend on August 22nd & 23rd, as costumed re-enactors bring soldiers of the past to life and recreate skirmishes of the Seven Years War of 1755-63, a global conflict which involved Buckler's Hard-built ship HMS Kennington.
See French and British forces – played by the 35th, 60th and 68th Foot living history groups – clash as they would have done following the landing of HMS Kennington at the pivotal Siege of Louisbourg in 1758. Complete with period-perfect costumes and authentic muskets, talk with these knowledgeable re-enactors and find out what life was like in the armed forces in the 18th century, then explore their camp set up by the river. Watch their military manoeuvres and see drill demonstrations with expert commentary, before the two sides engage in dramatic combat.
To get an understanding of HMS Kennington's role, see a scale model of this naval vessel on show in the attraction's Maritime Museum – which tells the remarkable story of the historic village and the ships that were built there during its heyday. You can also step inside the original labourers' and shipwrights' cottages and see the smugglers' cellar beside the altar in the Chapel of St Mary's. Buckler's Hard is a place for relaxation as well as exploration, so don't forget to leave time for a sumptuous cream tea or light refreshments at the Captain's Cabin Tea Rooms.
Activities are included in a ticket to Buckler's Hard at £6.90 an adult, £6.40 for seniors (60+), £4.70 a child (5-17 years) and £19.70 a family (one adult and four children, or two adults and three children) if bought in advance online. Or £7.50 an adult, £7 for seniors, £5.20 a child or £21 a family if bought on arrival or on the day. For tickets and details see www.bucklershard.co.uk or call 01590 616203.
An annual pass, for just £10pp or £30 a family, if bought in advance – or £12.50pp and £33 a family on the day – offers unlimited free visits to the village and 10% discount on gift purchases from the Maritime Museum shop.

Back