Pre - Raphaelite Knights at The Bowes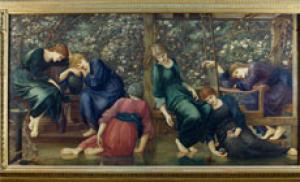 Step back in time and imagine what life would have been like in a world full of myths and legends at The Bowes Museum's spring exhibition, Pre-Raphaelite Knights: Reinventing the Medieval World will be live from 1st February to the 3rd May.
Visitors will walk through a portcullis, reminiscent of the entrance way into a Medieval castle, as they enter the exhibition which celebrates fairy tales and fantasy.
With 18 paintings loaned by prestigious public collections including the Tate, Bristol Museum and Art Gallery, Guildhall Art Gallery, The Fitzwilliam Museum and Manchester Art Gallery, featuring the leading lights in the Pre-Raphaelite movement: John Everett Millais, Dante Gabriel Rosetti, Sir Edward Burne-Jones and William Holman Hunt; the exhibition promises to enchant with four different themes that were focused on during the period.
The Pre-Raphaelite movement was a secret brotherhood founded in 1848 that was made up of painters, writers and poets who rebelled against the promotion of painters like Raphael whose work they thought looked unreal.
Visitors to the Museum in Barnard Castle will be able to see colourful works depicting chivalry, femininity, national identity and the sacred featuring Joan of Arc, St George and the dragon, the legends of King Arthur and the Knights of the Round Table.
Two suits of armour from Glamis Castle in Scotland (the family home of Museum founder John Bowes' grandmother, Mary Eleanor Bowes) will draw people into the world of Knights and chivalric honour.
The Brotherton Library at the University of Leeds is lending the Museum illustrated editions of "The Book of The Order of Chivalry" and "The Defence of Guenevere and Other Poems" by the arts and crafts designer William Morris, which will link to one of his watercolours on display. There will also be an illustrated edition of Alfred Tennyson's poem "Idylls of the King" on loan from Lincolnshire Archives.
Dr Howard Coutts, Curator at The Bowes Museum, said: "This exhibition is a celebration of how the Victorians imagined the Medieval period to be and the works on show highlight their reinterpretation of it, with beautiful fanciful images of romance and heroism. It's also lovely that one of the paintings is returning to the Museum almost 100 years to the day it was last loaned here, The Knight Errant by John Everett Millais from the Tate."
Visitors will also be able to have a go at recreating a jigsaw of The Bowes Museum's own stained glass window of a boy saint in armour on a light box.
The exhibition is being supported by The Albert Dawson Educational Trust.
Pre-Raphaelite Knights: Reinventing the Medieval World is open from 1 February 2020 until 3 May 2020.
Back