Spa Valley Diesel & Beer Weekend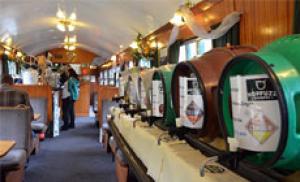 The first enthusiast event of the 2020 is the Diesel and Beer Weekend on 21 and 22 March 2020. The event will see the railway's heritage diesels take to the stage for two days of diesel filled action.
Spring Diesel and Beer Weekend at the Spa Valley Railway in Royal Tunbridge Wells
The resident fleet will also be joined by a visiting locomotive too!
Tunbridge Wells West Station can easily be reached via the mainline station in the centre of Tunbridge Wells or choose to start their journey at the other end of the line at Eridge. Trains also come into Eridge from London and arriving passengers can cross the platform to pick up services run by the Spa Valley Railway from here to Tunbridge Wells.
During the weekend the popular two train service will be in action at 45-minute intervals and a selection of beers and ciders will be available to enjoy from the award-winning bar car 'Kate' and at Eridge.
Locomotives:
Drewry 2591 'Southerham' (Saturday Only)
Class 10 D3489 'Colonel Tomline' (Saturday Only)
Class 31/4 31430 'Sister Dora'
Class 33/0 33063 'R.J.Mitchell'
Class 73/1 73140
Class 207 DEMU 1317 (Saturday Only)
BR Standard 4MT No. 80078 (Sunday Only, Mother's Day)
Coaches:
A: Rake of 4 MK1s with Bar Car 'Kate'.
CIG: Class 421 3CIG 1497
B: Rake of 3 MK1s with Queen Mary Brake Van.
Real Ales
A selection of Real Ales at Eridge and on bar car 'Kate' available. There will be 4 cask beers and 2 Ciders at Eridge and 8 beers and 4 ciders on board 'Kate'.
Driver for a Tenner
Available shortly will be Driver for a Tenner on all locomotives at Eridge and Tunbridge Wells West, have a go at driving one of these powerful machines a short distance, you never know, it might just be the drive you need to get your volunteering started at the Spa Valley Railway?!
Timetable
Tunbridge Wells West Departures: Saturday 09:30, 10:00 and then every 45 minutes until 21:15. Sunday 10:00 and then every 45 minutes until 16:45.
Eridge Departures: Saturday 10:00 and then every 45 minutes until 21:15 and then the last departure is 21:50. Sunday 10:45 and then every 45 minutes until 16:45 and then last departure is 17:20.
To book a journey on the Spa Valley Railway including tickets for the Diesel and Beer Weekend visit www.spavalleyrailway.com
Media enquiries to Caroline Edmunds at Pennington PR on 01892 616647.
Back