Snowdrops at Burton Agnes Hall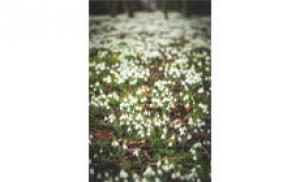 Spectacular snowdrops at Burton Agnes Hall 7th February to 1st March 2020.
Visit Burton Agnes Hall this winter to be captivated by a spectacular display of snowdrops, which blanket the historic woodland walk.
Each February, hundreds of thousands of hardy snowdrops push through the cold winter ground to0 create a magnificent 'white carpet' across the woodland floor behind the much loved Elizabethan stately home.
Simon Cunliffe - Lister says: "Our snowdrops are always a welcome sight; the biblical symbol of hope announces the new season and reminds us that winter eventually gives way to spring."
The courtyard awaits visitors returning from a walk. The cafe offers delicious, locally roasted Fairtrade coffees and speciality teas, home baked treats and warming meals created with local and home-grown produce. The two gift shops offer the new season's stock for a perfect gift or treat, and visitors may also like to add to their own collection of snow drops by choosing a Burton Agnes - propagated plant 'in the green, ready for spring blooming.
The Snowdrop Spectacular event runs from the 7th February to the 1st March 2020, from 11am to 4pm each day.
At the end of the snowdrop opening, Burton Agnes holds its annual Orchid Festival during the weekend of 29th February and 1st March. There will be a stunning display of the elegant flowers in the Great Hall and adjoining rooms, and flower sales. Ray Creek will give expert advice and talks and take questions about how to care for orchids; there will be slide shows and orchid-related goods for sale.
Back