2020 Exhibition Highlights at The Lightbox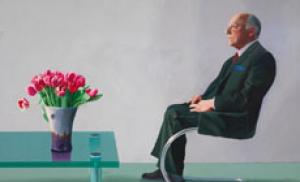 The Lightbox gallery and museum in Woking, Surrey, has a full and varied exhibition programme to look forward to in 2020. From an in-depth look at David Hockney's ingenious exploration of a diverse range of media, to Prince Albert's fascination with Renaissance artist Raphael, to the historical roots of Bridget Riley's art and her working methods; there is something for all artistic tastes at The Lightbox in 2020.
Entrance to the exhibitions listed is with a £7.50 Day Pass, and Lightbox Members and under 21s visit for free. The Art Fund Prize gallery, The Ingram Sculpture Gallery and the 'Woking's Story' local history museum are free for all visitors. A comprehensive programme of associated events to accompany exhibitions including talks, tours and creative workshops for families, children and adults can be found at thelightbox.org.uk. Please see below for a preview of what is to come at The Lightbox in 2020.
Main Gallery Exhibitions
David Hockney- Ways of Working 25th January - 19th April
Spanning six decades of creative output, this exhibition takes an in-depth look at David Hockney's ingenious exploration of a diverse range of media, from painting techniques, draughtsmanship and printmaking skills, to photography, designs for the stage and the embrace of digital technologies such as the iPad, Photoshop and inkjet processes.
Raphael - Prince Albert's Passion- 6th May 6th September
2020 marks the 500th anniversary of the death of Raphael and to commemorate this significant event, exhibitions are being staged around the world to celebrate Raphael's achievement as one of the greatest artists of the Italian Renaissance.
The upcoming exhibition relays the fascinating story of Prince Albert's passion for Raphael and his creation of the Raphael Collection at Windsor Castle. It reveals how Raphael caught the imagination of the Prince Consort, who embarked on a pioneering research-based project into the work of the Renaissance master, making copies of his work using the newest 19th century technology.
The Ingram Collection: Women at Work - 19th September - 6th September
Art made by women has and continues to be under-represented in collections and exhibitions.
Championing the work of female artists in The Ingram Collection, this exhibition will place contemporary artists such as Aleah Chapin and Lucy Jones alongside key figures in the history of Modern British Art. These include Barbara Hepworth, renowned sculptor in a male dominated profession, Sylvia Gosse, who was excluded from membership of the Camden Town Group and prohibited from working, as well as Laura Knight, the first woman to be elected by her peers as a full member of the Royal Academy in 1936 – the Royal Academy was formed in 1768.
Bridget Riley - 19th December 2020 - 16th May 2021
Delve into the historical roots of Bridget Riley's art and her working methods, through a selection of exemplary striped, curved, colour and black-and-white works.
Examples will be drawn from each decade – from the 1960s to the present day – with oils, prints and preparatory colour studies, forming a medium scale retrospective which will explore the artist's enduring exploration of colour, structure and perception.
Upper Gallery Exhibitions
Great Minds by Anne - Katrin Purkiss - 11th January - 29th March
Celebrating the achievements of women in creative professions, this exhibition of portrait photographs depicts influential women working across both science and the arts, who inspire others through their work and their contribution to society. Anne-Katrin Purkiss' portraits are held in the archives of the National Portrait Gallery, Tate and the Royal Society among others.
The ingram Collection: Collector's Favourites - 4th April - 21st June
Through artworks personally chosen by Chris Ingram, this exhibition will focus on the acquisitions that attracted his collector's eye, shedding light on the passions behind over twenty years of collecting art.
Modern British and contemporary art will be brought together to form new and interesting relationships such as Elisabeth Frink's sculpture, 'Soldier's Head II', 1965 and new acquisition 'Blue Bonnet', 2018 by Phyllis McGowan.
The Ingram Collection: The Art of Watercolour - 11th July - 4th October
Specially curated by the Young Creatives at The Lightbox, this exhibition explores the rich source of inspiration that artists have gained from working in the medium of watercolour. Visitors will learn about the techniques and tools of the trade.
Bold experiments, subtle hues and deftness of hand will be reflected through the work of Edward Burra, Eric Ravilious, Elisabeth Frink and Eileen Agar in this The Ingram Collection of Modern British Art exhibition.
We Think the World of You: People and Dogs Drawn Together by David Remfry - 10th October 2020 - 3rd January 2021
David Remfry (MBE RA) has long been fascinated by the relationships that develop between dogs and their owners. This exhibition reveals the mutual understanding and sympathy of these partnerships.
The series started 15 years ago in New York when Remfry, a resident of the infamous Chelsea Hotel, began to explore the relationships between friends and their dogs through evocative pencil and watercolour portraits. Among the sitters are well-known faces including Alan Cumming, Susan Sarandon and Ethan Hawke.
Visitor Information: The Lightbox is situated in Woking (25 minutes from London Waterloo by train) and is open Tuesday, Wednesday, Friday, Saturday 10.30am – 5.00pm, Thursday 10.30am – 8.30pm and Sunday 11.00am – 4.00pm. For more information please visit www.thelightbox.org.uk or call 01483 737800.
Back