Year of Artists season now on sale.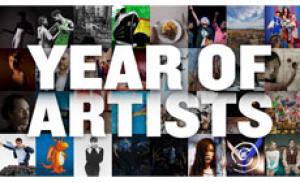 Bristol Old Vic launched its 2020 programme of work, Year of Artists – shining a spotlight on the role of artists in a changing world, and celebrating creativity in us all. Work from some of the most incredible talent in British theatre today (from Mark Rylance to Emma Rice, Sally Cookson, Joel Horwood and Maria Aberg) sits alongside dazzling new writers and artists (such as Ross Willis, The Wardrobe Ensemble and Miranda Cromwell) and opportunities for everyone from across the region, regardless of age, experience or background, to get creatively involved.
2020 Highlights include:
Oscar-winner Mark Rylance makes his Bristol Old Vic debut with Semmelweis.
A powerful world premiere based on the true story of Dr Ignaz Semmelweis, a radical creative of the medical profession whose rejection of received wisdom dared him to look at the world differently and held the potential to save countless lives. Written by Stephen Brown in collaboration with Tom Morris and Mark Rylance. (13 Jun – 25 Jul).

Olivier-winner Sally Cookson directs new play Wonder Boy by rising-star Ross Willis. Developed with Bristol Old Vic's Writers Department, through our annual Open Sessions call-out for West Country writers. This powerful coming of age story premieres on the main stage (17 Oct – 7 Nov).

Reimagining of Gatsby by Joel Horwood and Maria Aberg.
In September, as the US votes on its next President, this vivid and unique reinterpretation of F. Scott Fitzgerald's classic novel takes us back to the moment when the power structures of today took root (12 Sep – 3 Oct). Directed by Maria Aberg.

Rising-star Miranda Cromwell directs The Little Mermaid for Christmas 2020
Co-director of this year's West End sensation Death of a Salesman, former Bristol Old Vic Young Company Director Miranda Cromwell returns to Bristol next Christmas, with a narrative championing an environmental message of hope in The Little Mermaid. (26 Nov – 10 Jan)

The return of leading voices in UK theatre - Wise Children, Frantic Assembly, Kneehigh, Headlong and many more…
Cutting edge visiting work includes Faustus: That Damned Woman, from award-winning playwright Chris Bush as part of a UK tour, Wise Children's Romantics Anonymous at their only UK venue; Frantic Assembly celebrating their 25th anniversary with I Think We Are Alone, and Kneehigh's Ubu! A Singalong Satire at The Marble Factory.

Bristol's finest join the charge into 2020 with The Wardrobe Ensemble, Mayfest, Bristol Ferment, Bristol Old Vic Theatre School and Nancy Medina
Bristol Old Vic continues to support emerging and established Bristol voices in 2020 with ongoing partnerships (The Laramie Project by Bristol Old Vic Theatre School and Patrick Marber's The Red Lion from Bristol director Ed Viney and actor Joe Sims) and the Bristol Ferment initiative and Writers Department, supporting work throughout the year including Wonder Boy, Mid Life and Ferment Fortnight.

The return of Pride and Prejudice* (*sort of) and A Monster Calls.
Back by popular demand, these two smash-hit productions return for a limited run. In partnership with the Lyceum Theatre Edinburgh, Tron Theatre and Blood of the Young, Pride and Prejudice* (*sort of) returns to mark the end of a trailblazing UK tour, while Sally Cookson's A Monster Calls from the critically acclaimed bestseller, is back after its debut in 2018 in association with the Old Vic, London.

A season of work with and by young people and communities, driving creative opportunities for all.
Creative opportunities abound this year once again and include Anne Carson's new translation of Antigone presented by Bristol Old Vic's award-winning Young Company, while our annual Open Stage on May Bank Holiday opens the theatre stage to anyone who wants to perform, no matter what their passion! Many more projects and partnerships for the year will be announced on 4 Dec.
Full release on our 2020 season here
Download 2020 Season brochure here
Watch Tom Morris, Mark Rylance and 2020 artists talk about our upcoming year here:
Back