David Smith: Dialogues at YSP!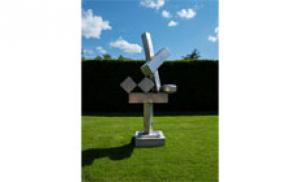 Join us for a fascinating day considering ideas arising from David Smith's work, beginning with a very special walk through the gallery with Candida Smith, the artist's daughter, who will give unique insights into her father's life and practice.
Saturday 23 November 10:00–16:00
The Auditorium at YSP Centre
£20 / lunch and refreshments included
Inspiring experts from around the world will then give talks enabling the audience to discover more about David Smith's work, his relationship to landscape and influence on other artists. This promises to be a truly international and stimulating event featuring writers, curators and academics including David Anfam, Sam Cornish, Tim Martin, Jed Morse, Dawna Schuld, Jyrki Siukonen, Marin Sullivan, Anne Wagner, and Jon Wood.

Following the morning galley tour, the event takes place in the welcoming atmosphere of YSP's auditorium, with refreshments provided in the morning and afternoon, as well as a delicious Yorkshire buffet lunch.
David Smith: Sculpture 1932-65
 Yorkshire Sculpture Park until 5 January 2020
 

"An exhilarating retrospective of the American sculptor" The Observer
"An impeccably chosen, beautifully installed group of often essential works"
The Hudson Review
 
American artist David Smith (1906-1965) is hailed as one of the twentieth century's outstanding sculptors and was recently described in The Sunday Times as "the Michelangelo of welding". He challenged sculptural conventions and was the first artist in the USA to work with welded metal. YSP's landmark exhibition charts the development of Smith's unique visual language over four decades, including truly iconic works from collections across the USA and Europe.
Back