#RememberRemember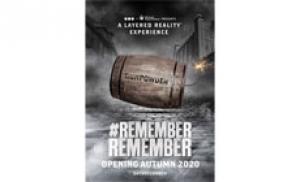 DOTDOTDOT & Tower of London to Launch Major New Immersive Entertainment Experience Autumn 2020.
•
Story of Guy Fawkes and the Gunpowder Plot to be retold using Virtual Reality, Live Actors, physical sensations and immersive theatre in a brand-new experience in 2020
•
Experience will span 20,000 square feet across three levels, adjacent to the Tower of London
•
Created by dotdotdot, the pioneering Layered RealityTM company, co-presented with Historic Royal Palaces
•
Opportunities for travel trade and group travel operators to package tickets
•
Meet the creators at World Travel Market on Tuesday 5th November at Stand UKI200
#RememberRemember
London, Tuesday 5th November. A major new immersive experience, telling the intriguing story of Guy Fawkes and the Gunpowder Plot, is set to open in Autumn 2020, adjacent to the Tower of London.
Adventurers will travel back to the 17th Century to be amongst the Gunpowder Plotters to test their nerve in solving the most notorious conspiracy in British history. With the Tower of London looming above them, torture, darkness and imprisonment are never far away. Will they be the hero of the hour, or be lost within its depths?
Using Layered RealityTM – a combination of real and virtual actors, stunning sets, virtual, augmented reality and projection mapping and physical sensations (such as sound, taste temperature and aroma) – guests will experience the infamous plot across 20,000 square feet of space over 3 levels.
A unique themed bar, with food available, will transport adventurers back in time before their journey – ideal for corporate and group events.
The experience will be the next chapter from dotdotdot – the pioneering and award-winning digital entertainment company behind the immersive experiences of SOMNAI and Jeff Wayne's Musical Version of The War of the Worlds (currently open), working in partnership with the Historic Royal Palaces.
Back