Eden's Cornish Inspired Exhibition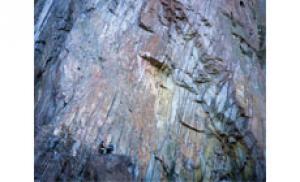 Cornwall and its varied landscapes are the focus of the Eden Project's latest art exhibition, to be unveiled on November 2.
Unbounded is a three-month contemporary art exhibition showcasing 15 artists who have worked in or are deeply connected to Cornwall, exploring the many layers of the county's social and environmental surroundings.
The display will run until January 26 2020, and highlights the changes in Cornwall's natural environment through signs of human activity and industry, making Eden the perfect setting for this exhibition.
The Eden Project itself demonstrates how a barren landscape can be transformed into a haven for plant life and community.
The exhibition is curated in partnership with Field Notes, who support emerging and established artists.
Field Notes curator Cat Bagg, said: "The artists in Unbounded each take a different approach to uncovering and investigating aspects of this rich and diverse county, with some inevitably drawn to the least accessible locations.
"These range from the unreal landscape of a neighbouring disused clay pit, the setting for a journey by a solitary figure encased in a plastic bubble to a game of chess played precariously perched on the cliffs."
Most of the artists involved in this exhibition collaborated with experts from other fields such as scientists, geologists, historians and musicians to expand their understanding and in some cases, to create their works.
Iconic landmarks also provided inspiration to some of the artworks that will be displayed at Eden, such as Ben Sanderson's paintings reflecting the change of seasons in the sub-tropical gardens of Trebah on the Helford River.
The artists involved with the Unbounded project are:
Dr Gemma Anderson is an artist and researcher, currently co-investigator on the art/science/philosophy AHRC-funded project 'Representing Biology as Process' at the University of Exeter and associate Lecturer in Drawing at Falmouth University.
Dr Bram Thomas Arnold is an artist with a special interest in performance, installation, drawing, academia, broadcasting and writing.
Phyllida Bluemel is an artist, writer, illustrator and lecturer working from Falmouth, Cornwall. She is interested in the philosophy of language, logic and structures of thought – especially related to nature.
Georgia Gendall is an artist whose multidisciplinary practice examines our relationship with the environment, often creating poetic and futile solutions to hypothetical problems.
James Hankey is an artist whose practice develops through photographic, performative and often absurdist processes of production that reflect on and combine local histories and wider ecologies.
Laura Hopes is an artist and researcher working with digital sound and film. Interested in the use of stories, she generates playful interventions to illuminate terrifying themes and radical and provocative re-interpretations of place.
Alastair Mackie is an artist who lives and works in North Cornwall. He explores the limits between nature and culture using sculptural interventions.
Rosanna Martin is an artist living and working in Cornwall. Her practice explores our relationship to landscape, materials and geology through sculpture and participatory events.
Elizabeth Masterton is an artist living and working in Falmouth. Her fascination with fallibility, time and decay are explored through encounters with people, places, objects and archives.
Jonathan Michael Ray is an artist whose practice largely comprises works in video, photography, installation, print and drawing.
Abigail Reynolds is an artist based in West Cornwall, whose work explores time and group identity through representation and its technologies. In works specific to Cornwall she interrogates the land as it is narrated through everyday life and shaped by social change.
Beth Emily Richards is an artist-researcher whose work investigates contemporary myth making, often exploring aspects of popular culture and idiosyncratic subcultures.
Nina Royle is an artist whose practice includes painting, creative writing and performance. Her work explores relationships between body, land and language.
Ben Sanderson is a painter based at CAST studios in Helston, Cornwall. His work explores relationships between history and non-linear time.
Katie Schwab is an artist whose practice interweaves personal, social, and craft-based histories. She works across the arts, exploring critical forms of hand-production within shared social spaces.
The Unbounded exhibition will be on display in The Core Gallery at Eden.
Entry into the exhibition is included in the normal admission fee for the Eden Project.
For more information on the Eden Project and Unbounded, as well as other art exhibits and residences, visit
www.edenproject.com
Back