Spiders this Halloween at Butterfly Farm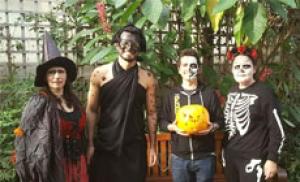 Visitors can discover an assortment of creepy crawly spiders at the Stratford-upon-Avon Butterfly Farm during half term from 26 October – 3 November.
What better way to spend the scariest day of the year than being surrounded by at least 8 different spiders and tarantulas including the latest inhabitant, the Huntsman Spider in Minibeast Metropolis! On 31 October, visitors are also encouraged to join the team for some Halloween fun and dress up as their favourite Halloween character!
The Butterfly Farm will also be showcasing its new high bay lighting system, a combination of blue, red and white LED lights. Even on the dullest of days the Rainforest Flight Area is now drenched in light and colour enabling the butterflies to stay active.
Recently brought to the Farm by the RSCPA is a Huntsman Spider which came from Colombia on a bunch of bananas. They are known by this name because of their speed, size and mode of hunting. The Pumpkin Patch is a stunning, beautifully coloured Spider which also originates from Colombia. Its name is derived from its distinctive, brightly coloured orange and yellow abdomen markings. The Red Back Spider, also known as the Australian black widow, is a species of highly venomous spider. However, since the introduction of an antivenom there have been no reported deaths as a result of a bite.
The Brazilian Red Fire is found in the rainforests of Brazil and spends much of its time in underground burrows. The Mexican Red Knee can live for 30 years and will grow to 15 cm. They often hide under logs and rocks to protect themselves from the Mexican sun. The Chilean Rose Tarantula originates from Chile and is a tame and docile species of tarantula. It is well known for its lovely pink colouring to its body.
The Goliath Bird Eating Spider is found in northern South America and is the largest spider in the world by mass and size but is second to the giant Huntsman Spider by leg span. The Orb Web can be found in a large hoop suspended from the ceiling however the spider is kept behind a protective barrier and will not leave her hoop. Orb web spiders make the classic orb webs frequently seen in gardens, fields and forests.
The Butterfly Farm will also be holding their popular 'Meet the Mini-Beast' handling sessions in the Discovery Zone. Twice a day, children and adults can take part in spooky handling sessions with the Education Team and hold creatures such as a giant African Millipede, African land snail, Madagascan Hissing Cockroach and a variety of Stick Insects!
Jane Kendrick, Marketing Manager at Stratford Butterfly Farm said "We have a vast collection of spiders on display which vary in size and colour! All our spiders are installed in alarmed tanks and completely safe to view. No visit to the farm is complete without a look in our Nature Inspired Gift Shop. We offer a wide & vibrant array of nature inspired gifts for all ages & a range of chilled drinks, delicious ice-creams & old-fashioned confectionery!"
To see hundreds of spectacular butterflies, insects, reptiles and spiders visit the Butterfly Farm from 10am to 5.00pm. Open every day of the week except Christmas Day. For more information including admission prices and group rates, please visit the website at www.butterflyfarm.co.uk or telephone on 01789 299288.
Back