LEGO Wonderland at the Bowes Museum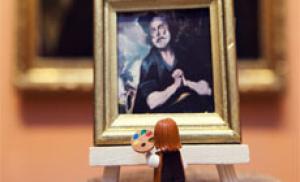 LEGO®: Building The Bowes Museum 25 May – 13 October
Sensational sculptures, thrilling trails and fantastic fun are all on the agenda as The Bowes Museum puts the finishing touches to its summer exhibition, LEGO®: Building The Bowes Museum, which opens in under a fortnight.
Excitement's escalating as renowned Artist and Brick This creator Steve Mayes turns the Museum in Barnard Castle into a playground for the imagination using LEGO®.
Visitors will be able to see magnificent LEGO® models alongside some of the most loved objects collected by our founders John and Joséphine Bowes, including the spectacular silver swan, collecting stickers as they go, before recreating a number of them in mini Creation Stations full of LEGO® bricks around the Museum.
Our main Creation Station is where people can really unleash their creativity, including toddlers in a dedicated LEGO® DUPLO® area, and use some of the 60,000 LEGO® bricks to take inspiration from their own collections to plan and build their own Museum of Treasures.
Visitors will also be able to buy a digital brick to build a virtual museum which will be projected onto a wall in the Creation Station as part of an evolving animation.
John and Joséphine's travels around Europe amassing their amazing collection, will be represented by a LEGO® model of Darly the Train, the mascot of Darlington Building Society, the exhibition's partner.
The opening celebrations will kick off with a family fun day on Saturday 25th May where visitors will be see the exhibition and get a taste of some of the fantastic thought provoking events that will be held, including:
· Being challenged in our robotics workshops;
· Printing with LEGO®;
· Creating and racing LEGO® cars; and
· Delving into a Design Laboratory where you can explore the design, science and technology of LEGO®.
Other talks, events, and workshops that are planned to keep all generations engrossed throughout the summer, include:
· Dementia friendly events, with opportunities to indulge in relaxing LEGO® away from the hustle and bustle;
· Making stop motion animations with fabulous cartoon characters;
· Learning the tricks of the LEGO® trade to improve your building prowess and how to achieve master builder status;
· Learning how to make your own Museum, stunning silver swan or robotic mouse from LEGO®;
· Travelling through time to meet the designer of The Bowes Museum or stepping into the future to collect your own precious things by travelling through space and time;
· Finding out the secrets behind taking brilliant shots of LEGO® creations with our own photographer; and
· Late night Block Parties where adults can embrace their inner child and get their creative juices flowing with the bricks and a drink.
But before all that, visitors will be able to see rare behind the scenes action as the new exhibition is put together by joining graffiti artist Dan Walls as he creates new artwork for the Creation Station on 16 May from 2.15pm to 2.30pm.
Jane Whittaker, The Bowes Museum Head of Collections, said: "This promises to be one of the most creative exhibitions we've ever held as people will be able to get truly hands on and connect with our collections in a brand new way.

"There really is something for absolutely everyone, across the generations, with events for toddlers, children, teenagers and adults alike, letting people bond and relax in an inspirational, playful, environment.
"Our main exhibition hall will be unrecognisable as it's transformed into an explosion of colour, with graffiti and continually changing interactive digital displays."
Steve Mayes, Brick This creator, said: "It's been an absolute pleasure to work on these amazing models that tell the story of the creation of The Bowes Museum through its collections and I really can't wait to see all the different styles and ways that people will build their own Museums in the Creation Station."
For a full list of the events that are taking place during the exhibition please see the Museum's website www.thebowesmuseum.org.uk.
Back