Timing is everything at Tatton Park's Farm this Spring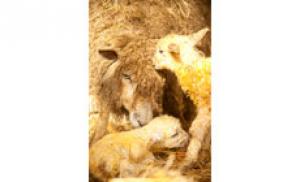 If you want to witness the wonders of nature this spring, head to Tatton Park's Farm between 2-9 April and share the excitement of Lambing Week. We have synchronised ewes to lamb within a seven-day period.
Will you be lucky enough to see a lamb being born?
Elly Edwards, Farm Assistant, works hard throughout the winter months to synchronise the ewes to all lamb at roughly the same time.
"Lambing is our favourite time of year – a sure sign that spring has sprung. The 2-9 April is going to be a very busy week at the Farm and we cannot wait! Nothing is nicer than new born lambs. Come down that week and you may be lucky enough to see a live birth."
"The results of our sheep scanning are in!"
Elly explains that the Farm uses the same technology as hospitals, when scanning pregnant women. "The results of our sheep scanning are in and we are very pleased. We are expecting 41 lambs in total – six singles, 16 sets of twins and even one set of triplets! Now we have this information, we can give the expectant ewes the correct care and feed for the number of lambs they are carrying, to ensure the best possible results for all the animals."
Want to learn more about Lambing?
Throughout Lambing Week, Farm staff share their expertise with visitors twice a day, giving informative talks at the lambing shed. Learn how they spot the signs of lambing and how they look after sheep during this extra special time.
Times and prices for Lambing Week:
• Thursday 2 – Thursday 9 April
• Closed on Monday
• Farm open 12pm-5pm (last entry 4pm)
• Normal Farm admission applies: £8 per adult, £6 per child, £21 for a family*
• National Trust members enjoy half price entry to the Farm
• Parkland vehicle entry £7 (including NT members)
*2 adults and up to 3 children
Secrets of the Lambing Shed, 9 April
Join Tatton Park's resident sheep expert, Elly Edwards, to discover the secrets of a successful lambing period, meet our ewes and new born lambs and help out during one of our favourite times of year on the Farm. Suitable for both adults and children aged 12 years old and above. Thurs 9 April, 10:00am - 12:00pm. Price: £18 (includes park and farm entry).
To book visit tattonpark.org.uk/events or call 01625 374428

Back