Butterfly Farm Feels the Love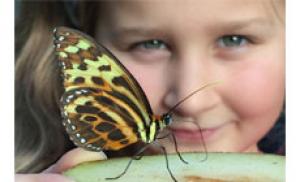 With Valentine's Day only a few weeks away and 2020 being a leap year, the Stratford Butterfly Farm offers the most romantic of places for women (and men!) thinking of popping the question. The tradition of women proposing on the leap day is thought to date back to 5th-century Ireland when St Bridget complained to St Patrick that women had to wait too long for suitors to propose. He then gave women a single day in a leap year to pop the question – the last day of the shortest month!
Set in a large greenhouse, landscaped with waterfalls, ponds and tropical plants, the Butterfly Farm is the perfect setting to infuse romance and feel the joys of spring! From 14 – 16 February, the Butterfly Farm is giving each visitor a beautiful complimentary marble heart to either keep or give to a loved one. In return the Farm wants to encourage visitors to pledge their love for the environment by making a green action promise. Pledges to do something positive to help protect the environment can be written and hung in the Discovery Zone.
However, it's not just humans which can be affectionate and romantic. As the days start to get longer the butterflies are also feeling amorous and starting to mate once again. Like many other species some of the butterflies practice a courtship routine before mating to discover the suitability of the potential mate, just like humans!
There is also plenty on offer for younger visitors during the half term from 15 – 23 February. Children and adults can take part in the popular twice daily Meet the Mini-Beast handling sessions and hold creatures such as a giant African millipede, African land snail and a variety of stick insects.
Jane Kendrick, Marketing Manager at Stratford Butterfly Farm said "Here at the Farm we love to see couples propose to each other and with it being a leap year I hope we see plenty more proposals on the 29 February! Our marble hearts are a lovely keepsake and we want to encourage everyone that visits on those two days to make a pledge and do something positive for our environment".
To see hundreds of spectacular butterflies, insects, reptiles and spiders visit the Butterfly Farm from 10am to 5:00pm, last entry 4:00pm. Open every day of the week except Christmas Day.
For more information including admission prices and group rates, please visit the website at www.butterflyfarm.co.uk or telephone on 01789 299288.

Back