Albert Goodwin Exhibition in Salisbury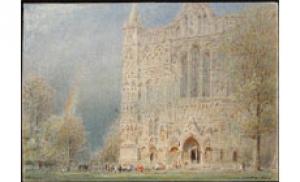 The Salisbury Museum will be starting 2020 with a brand new exhibition of stunning watercolour paintings by landscape artist Albert Goodwin (1845 - 1932). Visionary Landscapes will open on 25 January and run until 18 April 2020.
Albert Goodwin was born in Maidstone in Kent. One of his major influences was J M W Turner, and like Turner, Goodwin's exceptional artistic ability was recognized at an early age - in fact he was only fifteen years old, when his first painting was exhibited at the Royal Academy. His work was championed by the famous art critic, John Ruskin, who took him on a landscape tour of Europe in 1872 and this helped spark Goodwin's lifelong love of travel and landscape painting. By 1876, Goodwin had become an associate member of the Royal Watercolour Society.
Goodwin was a painter with the soul of a poet - who responded to landscape in a way that could almost be interpreted as a blend of J M W Turner's technique and the Pre-Raphaelite philosophy of 'truth to nature', to create a delicate style of his own. He experimented with a variety of techniques, using ink over watercolour to create atmospheric lighting effects, recording iridescent landscapes, which have also become an important record of social history.
This exhibition is a touring exhibition organised by Maidstone Museum for Maidstone Borough Council.

Back